Easily transition from Direct Bill Partner to Indirect Reseller
Introducing the

"We've Got Your Back"

offer
for Direct Bill Partners shifting to the Indirect Reseller CSP Model
It finally happened. Microsoft made the announcement about revised performance standards for its Cloud Solution Provider (CSP) direct bill partners. Now you must choose: Stay in the direct bill program and strive to meet the requirements or transition to the CSP Indirect Reseller program. Stratos Cloud Alliance can help you make the transition to the Indirect Reseller program with ease and confidence.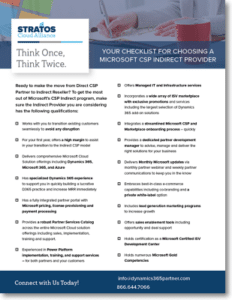 Get what you need from your Indirect Provider, download the Direct to Indirect Checklist
Take Advantage of the SCA "We've Got Your Back" Direct to Indirect Offer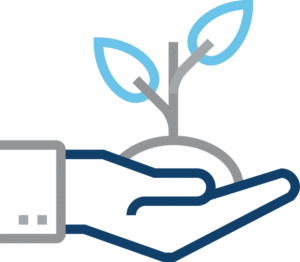 Get up and running quickly –
in as little as ONE DAY
Gain end-to-end services from pre-sales assistance to consulting support on Microsoft Cloud Solutions

Reap the rewards of individualized attention from an experienced team
In just one day, you can be up and running on our Stratos Hub eCommerce Marketplace where you can start transacting right away. But we're about much more than simply transacting.
Here's what you get with SCA when you take advantage of our special offer just for direct bill partners moving to our indirect reseller program:
To support your transition, SCA is offering up to 28% margin for your first year, regardless of your transaction volume
Free Premium Stratos Hub for the first year – includes the White Label Marketplace and PSA integration
An experienced, dedicated team that has successfully transitioned direct partners to the Indirect CSP model with no interruptions to their business
A partner that has a deep partner services catalog for all Microsoft Cloud solutions including Azure, Microsoft 365, Dynamics 365, and Power Platform so you can easily expand your business and grow your revenue
The expert staff of SCA consultants available to supplement your team when you need them
Marketing and communications support to help with transitioning your customers with transparency and ease

Ready to stop worrying about meeting Microsoft requirements and focus on meeting the needs of your customers? Ready to grow your business with a broader set of solutions and services? Ready to partner with an experienced team that has your back?
Contact us

to learn more about Stratos Cloud Alliance and our partner program.
At Stratos Cloud Alliance, we understand the sacrifice and commitment you made to be a direct bill partner. There are dozens of criteria you had to meet, and it took time and money to attain the status of Direct CSP. We also have experience assisting previous Direct Bill Partners make the transition to the Indirect Reseller model – and – have also worked to transition Indirect Resellers who have joined our partner program.
Attention Microsoft CSP Direct Bill Partners: We've Got Your Back!
Microsoft announced last week that CSP Direct Bill Partners, in addition to all the other program prerequisites, will be on the hook for...
Read More