Your Portal to Success
The very first thing you encounter when you access your Stratos Cloud Partner Portal is a series of videos each designed to get you started on building or expanding your business with Dynamics 365 BC, CRM, the Microsoft Power Platform, and various other headline topics meant to keep you fully informed on the latest greatest news in our channel.
All on the Stratos Cloud Home Page!
Next, you'll see links to all new assets released within the last 90 days including new email campaigns, hot high leads, web leads, new form leads and your progress in your engagement with Stratos Cloud.
Right there on the home page, as you continue scrolling, you'll find the doorway to the wealth of assets Stratos Cloud makes available to you. Right there you can:
Import Contacts for your Marketing Automation Campaigns
Register New Opportunities
View Your Events Calendar
Enter the Asset Library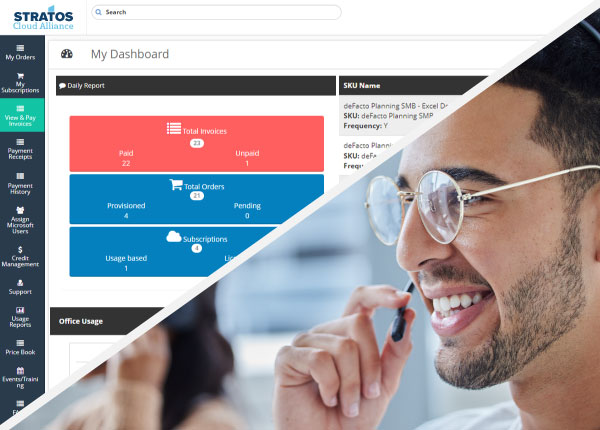 Partner Marketing Resources
Ready to start marketing? Here are the tools you need:
Partner Sales Resources
You and your sales team will keep track of the accounts and contacts you're pursuing right here in the portal and keep careful track of the pipeline of opportunities they're building!
Delivering more and more value are the many Stratos Cloud Sales Playbooks you'll find right here in the Sales section of the Stratos Cloud Partner Portal!! Here, you'll learn about:
New Wave Releases
How to Market & Sell Microsoft Platforms
Fundamentals of Microsoft Platforms
Network, Security, and Other Assessments
Sales Strategy Content
Time Management Strategies
New Microsoft Programs
Progressus and Other Platform Products
Recognition as a Trusted Partner
All companies talk a big game. However, we have the accolades to back our claims. Stratos Cloud Alliance unrelenting focus on partner outcomes has resulted in industry-wide recognition as a leading CSP. In this time, we have earned some of the most prestigious awards in the space including Microsoft InnerCircle for 25 consecutive years. Most recently we have been awarded Microsoft's Eagle award and were recently named as a finalist for Microsoft Indirect Provider Worldwide Partner of the year.



Gain Access to Our Network of ISV Solutions
We have partnered with dozens of ISV's to help our partners extend the functionality of Microsoft Dynamics 365 and deliver the ideal solution to their clients. As a Stratos Cloud Alliance partner, you gain access to all of our ISV's solutions, and our combined expertise in implementing these solutions.